Akkodis Academy: AWS Training
Official AWS Training delivered privately to your organization
Akkodis practitioners are experts; and experienced experts are the best people to train your team.

Akkodis is an Authorized Training Partner with AWS in multiple countries and languages, providing Instructor Lead or Virtual Instructor Led (online, live) Training to your team, privately, in any of: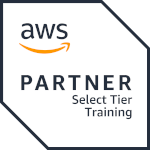 What is Instructor-led Training (ILT)
These days individuals learn new skills in multiple ways: on-the-job experience, one-off workshops, technical industry conferences, meetups, online self-service video-on-demand, along with traditional classroom-based instruction with an in-the-room instructor delivering the training. Not all modes of training work for all people.
With a live Amazon Authorised Instructor (AAI), either physically in the same room, or virtually online, your students have the added benefit of the instructor being trained and validated as a capable teacher.
Why Akkodis for your AWS Training Requirements
For Akkodis, our Authorised Instructors are delivery engineers and practitioners, with years of experience on large, complicted projects for enterprise and government clients. This means your students can gain additional insight from this experience.
Akkodis only delivered private training to our clients one at a time. All discussions your students have are only with their colleauges, and our instructor; there's no other clients in the room.
If required, our instructors can also carry national security agency clearances, as well as being Amazon Authorised Instructors, holding the deep AWS Certifications required.
Courses Available from Akkodis
Akkodis currently offers the following official AWS Training courses to our clients:
Akkodis does not currently offer public schedules or delivery of training to individuals, but specializes in private delivery of official AWS training material to our clients teams. Our training course delivery is customized to the timing and location requirements of our clients.
Engage Akkodis
You can contact us to discuss your organizations AWS Training Requirements.
Contact Akkodis to find out more⧉